Contours Curve® Double Stroller
$699.99
Our Contours Curve® Double Stroller is the best double stroller for your infant and toddler, two infants, or two small toddlers – and yet it still maneuvers like a single stroller. Its unique 6-wheel design and curb-assist feature makes steering and navigating in tight spaces a breeze. Specifically engineered to perform with the weight of two children, this tandem stroller glides, pushes and turns 360°, offering the easy maneuverability of a single stroller in a double stroller.
Meets Disney size requirements when front seat is facing parent.
Also available in JET BLACK!
Our Contours Baby team is dedicated to going above industry standards when it comes to product testing. Check out our product safety & testing information here.
Learn More
Learn More
Model Number: ZT020
Effortless Push & 360° Turns
Removable & Reversible Seats for Multiple Seating Options
Transport Your Infant Easily And Comfortably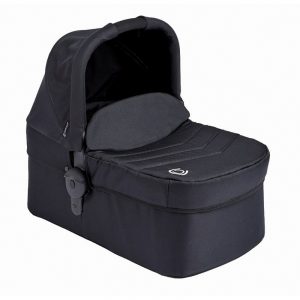 Folds compactly for easy storage
Removable canopy for increased airflow
Includes boot cover and machine washable mattress cover
For use in the rear position of stroller only and facing parent
Can be used for overnight sleeping detached from stroller on a flat surface
Accommodates Up To 2 Infant Car Seats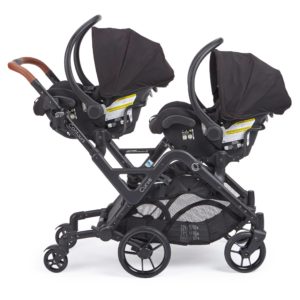 Car seat adapters available for many infant car seat brands (adapter sold separately)
More Features You'll Love
UPF 50+ Canopies
Zipper-mesh expansion for maximum coverage and peek-a-boo windows
Water-resistant Seats
Sonic welded, water-resistant seats for easy cleanup
Large Storage
Large storage basket with easy side access
Smooth Ride Features
Front and rear wheel suspension, sandal friendly brake with color indicator
Parent cupholder
Grab your favorite beverage and hit the road
Standing Fold
Standing fold with both seats attached
Awards & Recognition
New Arrival - 2019 Cribsie Award
JPMA Innovations Award Finalist
2020 Twinnie Awards
2020 Twinnie Award Runner up for the Best Tandem Stroller
SHOW YOUR @CONTOURSBABY LOVE!
Contours Stroller Comparison Chart
2) Weight Limit
Children up to 40lbs in each seat (80lbs total)
3) Dimensions
25" x 54" x 27" (Folded), 25" x 44.5" x 54" (AssembledW
4) Certifications
JPMA Certified
5) Safety Harness
Two padded 5-point safety harnesses
7) Floor to Seat Distance
17.5 in Front Seat / 21.5 in Rear Seat
8) Package Dimensions (box)
3.5" H x 18.5" D x 22.5" W, 51 lb
9) Warranty
1-year manufacturer's warranty; free extension to 2-year warranty with product registration
Contours Curve® Double Stroller
Quantity:

1


$699.99